Agribur commits to quality
Agribur s.l. takes care of the product supplied to its customers from the farms, placing special emphasis on the harvesting of the fruits, until the delivery at the facilities of its customers.
Harvesting is carried out, with or without a leaf, with a special care that allows the highest quality standards of the product to be sold.
In its warehouses, Agribur S.L. has the most suitable machinery, security systems and professionals in the sector, which are updated and improved after each campaign.
In these processing and packaging plants, all products are made, without any post-harvest phytosanitary treatment, depending on the season, under license and Agribur's own brands (Castang, Candela, Mélodie, New Style, Karissma, Pour toi, Côté Nature, … .), as well as under license and brand of its customers (Fanny, Nat Sens, …), serving the orders, at destination, date and brand required and ready for direct marketing.
COMMITMENT TO QUALITY AND FOOD SAFETY
Agribur, S.L. It is due to the satisfaction of its customers, that is why we take care of the quality of the fruit from the field to the delivery to our customers. We are backed by three decades of experience and the satisfaction of the customers who have remained by our side from day one.
Our company has evolved hand in hand with our customers, it has been renewed to guarantee the quality of its products at all times. In the field, the Global G.A.P. Protocol has been employed, which ensures the implementation of good agricultural practices, in accordance with our commitment to respect the environment.
All handling centres have BRC and IFS. These private food safety and quality management standards are proof of the effort and work we do behind each of the fruits that we deliver to our customers.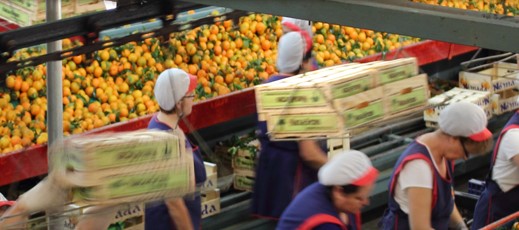 In pursuit of quality and its commitment to food safety, Agribur manufactures every product that enters its warehouses without using any post-harvest phytosanitary treatment, which allows us to offer "naturally delicious" clementines and oranges to the consumer.